Gairloch canoe deaths: Divers search for Ewen Beaton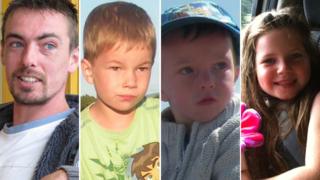 Police divers have been helping with searches for the body of a man following a boating accident that killed his two sons and a young girl.
Ewen Beaton, five, Jamie Beaton, two, and Gracie Mackay, five, died in hospital following the accident at Loch Gairloch in the Highlands on Sunday.
The body of the boys' father, Ewen Beaton, 32, remains missing.
Grampian Police Underwater Search Unit was assisting in the effort to find and recover his body.
Northern Constabulary said a remotely operated vehicle was being used and divers would be sent into the water if necessary.
A spokesman said the unit had been provided with GPS coordinates of the last sighting of Mr Beaton.
He said: "After searching the Inner Loch Gairloch area, they may carry out further searches along the coastline north from Gairloch toward Melvaig and possibly beyond."
Police, RNLI and coastguard have been making shoreline searches.
On Wednesday, coastguard personnel used a boat to search the north coastline off Longa Island up to Peterburn, a remote area between the villages of Gairloch and Melvaig.
They later searched from Rubha Reidh, where there is a lighthouse, to Peterburn.
The Beatons, from near Beauly, and Mackays, from Muir of Ord, were on a day trip and had gone out in a Canadian canoe.
After the craft overturned, Gracie's sister and father managed to alert the coastguard when they reached the shore.