Scottish fabrics making unexpected journeys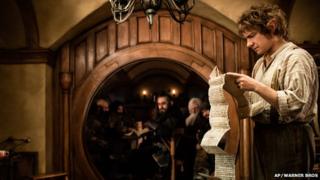 Fabrics made in some of the furthest corners of the UK have been making some unexpected journeys. Tweed and linen from the Western Isles and knitwear from Shetland has been turning up in places from Japan to Middle Earth.
Exports outside of the UK have long been key to the survival of Scotland's traditional textiles businesses.
For many years Germany was the biggest overseas importer of Harris Tweed, a cloth woven on the islands of Harris, Lewis, the Uists and Barra.
But in 2009, following a number of troubled years marked by mill closures and worries about an ageing workforce, the Harris Tweed Liaison Group commissioned research to explore the possibility of increasing sales by opening up a new market in Japan.
Three years later and more than 40% of all cloth leaving the Western Isles goes to Japan, overtaking sales to Germany, according to the Harris Tweed Authority (HTA).
That Far East market is also expected to push this year's total production to more than a million metres of cloth. In 2009, production ran to just 500,000 metres.
Lorna MacAulay, HTA chief executive, said: "There were more than a couple of years where perhaps the industry was in crisis and wasn't telling its story to potential markets.
"But in the last three or four years we've re-energised ourselves and gone out and told that story."
The "story" is about how wool has been dyed and hand spun into tweed by islanders for centuries and how in the 1840s it was first brought to the attention of commercial markets by a widowed aristocrat, Lady Dunmore, after she fell in love with the material.
Ms MacAulay says the Japanese market has been impressed by this origin story as much by the quality of the cloth.
She says: "Japan is a real shift in terms of markets, and quite a shift in pattern choice as well. The Japanese market is looking for brights and plaid, which is clearly a contrast from the subtle, traditional palette that the German's choose."
She says the cloth is being used to make hats, muffs for keeping hands warm and as fabric in making head phones.
"I've also heard there is a school using it for its uniform," she adds.
Shizue Melvin, designer at Edinburgh-based Scottish-Japanese tartan design company Sakura Scotland, said fashion conscious Japanese consumers have a disposition to Britain and British goods. She also confirmed a fondness in Japan for cloth with a history to it.
On Harris Tweed, she added: "It is being sold in a much wider range of retail outlets and has gained a very loyal following."
In Scotland, the fabric has also been making another unexpected journey. Late last month, fans of the cloth donned their best tweeds for a 10-mile (16km) cycle ride around Glasgow.
Inspired by similar events in New York and Tokyo, this year's was the second annual staging of Glasgow's Harris Tweed Ride.
Participant Dora Hetherington, 24, says creative uses of the cloth by companies such as Harris Tweed Hebrides had helped to halt the industry's decline.
She says: "Personally, I love everything that Harris Tweed stands for.
"The heritage. I love that the cloth is designed, woven and finished on the island by islanders and has been for generations. I love that from afar the fabric may look one colour but then at a closer inspection you realise there are specs of a whole range of colours.
"The cloth has such a beautiful story to share with the world and I believe that's what much of the appeal is."
Japan is also an important market for Shetland's knitwear industry.
Knitwear has been estimated to be worth £3m to Shetland's economy and generates annual sales of £2.1m in exports outside the UK, according to Highlands and Islands Enterprise.
One of the firms involved, Laurence Odie Knitwear Ltd in Sandwick, employs 14 people directly and up to 40 indirectly. Following new investment, the future of the in-house workforce has been secured and three new posts could be created.
Laurence Odie, managing director, said: "Our biggest market is Japan."
"Italy and the USA are also very important to us, but Japan has grown slowly over the last nine years to become our largest market for a wide range of products, both men's and women's."
'Looking hard'
But the most surprising destination for an island-made fabric must be Middle Earth - the mythical land in JRR Tolkien's fantasy story, The Hobbit.
Linen woven by Scalpay Linen on Harris has been bought for making costumes for the new movie trilogy which stars Martin Freeman as hobbit Bilbo Baggins.
The first of the three films - The Hobbit: An Unexpected Journey - will be released in cinemas in December.
Through a firm in London, Scalpay Linen supplies cloth for stage, TV and film productions. Previously, it provided fabric for the television drama Conan Doyle's Lost World.
Weaver Sheila Roderick said the small island business did not expect to see its name among the credits for The Hobbit, but employees would draw great satisfaction from seeing their linen clothing some of its cast.
She said: "The linen we supplied is grey and white speckles - a lighter fabric than our usual.
"The makers may have dyed or otherwise coloured the cloth, but we will definitely be looking hard to see if we can spot it when the film is released."