Alex Salmond to meet new BBC boss to discuss job cuts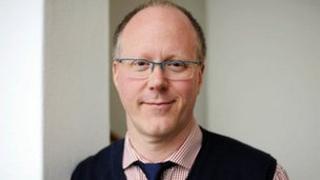 The First Minister is to meet with the BBC's new director-general next week to discuss job cuts at the broadcaster.
Alex Salmond told MSPs that BBC Scotland's loss of 35 posts was "extremely disappointing".
Speaking at First Minister's Questions in Holyrood, Mr Salmond said he would be meeting director-general designate George Entwistle.
BBC Scotland said its aim remained to provide high quality and distinctive programmes and services.
Cuts are to be made to posts in news in Glasgow, Inverness and Aberdeen, or Dundee.
Mr Salmond said: "The job cuts at BBC Scotland are extremely disappointing.
"I think this chamber should be aware of the contrast between the funding cuts that affected the BBC in Scotland, a 16% cut, with this government's decision to protect the funding for BBC Alba."
'My concern'
Referring to reports that the BBC could use staff from publicly-funded Gaelic service BBC Alba to cover for cuts in Inverness, Mr Salmond said: "That would be, in my estimation, a very serious position indeed and I will be putting that point directly to the BBC director-general designate when I speak to him next week.
"I'll make clear my concern on the impact of public sector broadcasting in Scotland."
Mr Entwistle was appointed director-general designate in July and will take up his role on 17 September. He takes over from Mark Thompson.
Highland SNP MSP John Finnie and Labour MSP David Stewart and north east SNP MSP Kevin Stewart raised their concerns in Holyrood about the cuts.