Forest workers find WWII bomb on Cawdor Estate near Nairn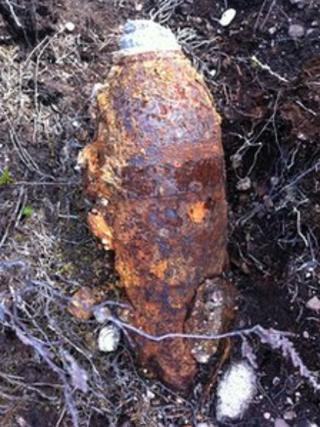 A World War II mortar bomb has been dug up by forestry workers in a remote part of Cawdor Estate, near Nairn.
The discovery was made at about 08:50 during a survey of the forest, near Reareach Hill, Glengeoullie.
Police officers put a cordon around the area. The nearest house is about a mile from the site.
Bomb disposal experts were contacted and confirmed the device as a World War II mortar. A controlled explosion has been carried out.
Insp Murdo MacLeod, from Northern Constabulary, said: "Discoveries such as this are common in this area where there were a number of ranges in operation during the Second World War.
"As is standard practice, a cordon was placed around the area and following the assessment and attendance of the MoD, a controlled explosion was carried out without incident.
"I would like to remind members of the public that these mortars are very unstable and any such find should be reported to police without delay."