Forestry Commission to take over Skye's Eilean Bàn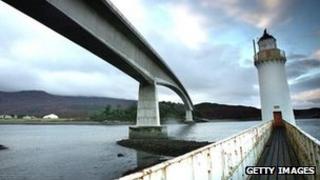 A small island where the author of otter story Ring of Bright Water once lived is to be taken over by the Forestry Commission Scotland (FCS).
Transport Scotland owns Eilean Bàn, which lies beneath the Skye Bridge, but no longer needs the land.
The Scottish government agency said the transfer to FCS would mean the six acre (4ha) island remained in public hands.
The late Gavin Maxwell lived on the island and was inspired by its wildlife, which include otters.
The Eilean Bàn Trust had hoped for the island to stay in public ownership.
The trust promotes tourism on the island and works to protect and conserve its wildlife and lighthouse, which was built in 1857.
Thomas Stevenson, father of Treasure Island author Robert Louis Stevenson, was involved in designing the lighthouse.