Pet ban for Inverness woman who failed to get dog to vet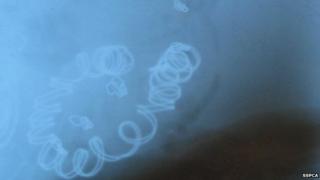 A woman who delayed in getting treatment for her dog after it became emaciated and extremely ill has been banned for keeping pets for two years.
Janette Milne, 28, from Inverness, did not know that her English bull terrier, Henry, had eaten a cable and plug from an electric razor.
However, Inverness Sheriff Court heard that she should have taken him to a vet earlier because of his poor condition.
Sheriff Peter Anderson also fined Milne £300.
Milne had earlier admitted causing her pet unnecessary suffering. She also admitted failing to provide adequate treatment for the dog, which had to be put down.
A Scottish SPCA inspector had seen Henry and been concerned about the state of the dog. Milne told the inspector the dog had been ill for three days and she believed it was because he had eaten mushrooms.
When Henry was examined it was found that the dog had swallowed a plug and cable.
Because of the damage to his intestines, Henry had be put down.