Highland Council gritting budget 'safe'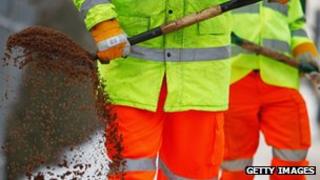 Highland Council has said it has managed to maintain its winter roads budget at previous levels despite "severe constraints" on spending.
The local authority said £4.7m was sufficient to deal with an average winter, but would spend more if necessary.
The council has about 67,532 tonnes of salt in stock.
On average, 60,000 tonnes of salt a year are used on roads by Highland Council.
Graham Phillips, transport, environmental and community services committee chairman, said: "Manpower levels and the number of snowplough and gritting vehicles have remained the same for several years and there are no plans to reduce the service."
He added: "I would like to extend my appreciation the efforts of all our staff, who go out in all weathers and often dangerous conditions to keep the roads safe for the rest of us."
Highland Council has responsibility for the longest non-trunk road network in Scotland, about 4,189 miles (6,740km).