Scotland's national parks given £2.9m funding boost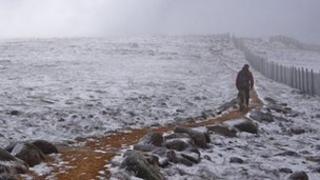 Scotland's national parks are to share an additional £2.9m in funding to help improve tourism and the rural economy.
First Minister Alex Salmond said the extra money would be used "for shovel ready projects to enhance visitor facilities and support green tourism".
Scotland's two national parks were visited by 5.4 million people last year.
The extra spending will allow investment in visitor sites and path improvements.
There will also be better community facilities at both Cairngorm National Park and Loch Lomond and the Trossachs National Park.
Cairngorms attracts 1.4 million visitors each year, while Loch Lomond attracts four million visitors. Together they contribute around £268m to the Scottish economy.
The announcement on the national parks came after VisitScotland announced tourist numbers in the summer of 2012 were down 12% on the previous year.
The reduction was blamed on the draw of the Olympics, as well as the poor weather.
Better facilities
Duncan Bryden, Cairngorms National Park Convener said: "Better recreational opportunities, better community facilities and projects that will preserve and enhance our cultural heritage are the winners this time round and I look forward to seeing these coming to fruition in 2013 and 2014, thanks to this additional funding."
Broadcaster CNN announced that Scotland was its number one world tourism destination for 2013, and the Scottish Government has designated this year the "Year of Natural Scotland".
Loch Lomond & The Trossachs National Park Authority CEO Fiona Logan said the extra money would be "directed towards our improvement programme in 2013 for the West Highland Way and other strategic paths which attract thousands of people, including many international visitors to Scotland".
£2.31m has gone to Cairngorms, while Loch Lomond has received £580,000.
Capital spending
Speaking at First Minister's Questions, Mr Salmond said: "Last year I had the pleasure of launching the Scottish National Trail with Cameron McNeish and that trail of course was cited by CNN as a key reason for people to come to Scotland this year.
"Scotland's national parks are already hugely popular and I know this extra funding will boost their appeal as tourist destinations and help us encourage ever more people to come to our beautiful country."
The Scottish government said in December that more than £7m extra would be spent on forestry, national parks and tourism. That was part of a £205m plan to boost capital spending announced by the Finance Secretary John Swinney as a result of extra money given to Scotland from the UK Treasury.