Lav in a cold climate: 'Free range toileting' etiquette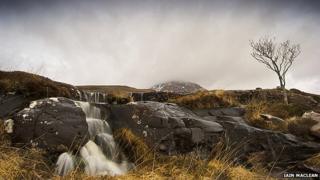 The "pristine environment" of Scotland's wild hills and mountains are occasionally fouled by human waste. Public conveniences are not in great supply on most Munros. What should you do if you need the toilet in the great outdoors?
Earlier this winter, an experienced mountaineer could barely contain his anger at narrowly avoiding a pile of human excrement on his walk up Coire Ardair in the Highlands.
Later, in a blog, he wrote: "Right next to the path, not even 10 metres away behind a boulder or tree where it might be discreetly hidden. No, close enough so that you might accidentally tread in it."
The mountaineer said whoever was responsible could easily have gone to a public loo just 20 minutes walk away.
He even uploaded an image of this toilet along with a photograph of Coire Ardair and its nearby Munro, Creag Meagaidh.
"This is a toilet," he captioned the public loo image. "This is not a toilet" he wrote below the photograph of the coire.
But what should people do if they get caught short in the great outdoors when a WC is not within reach?
It is a matter organisations such as Scottish Natural Heritage (SNH) and the Mountaineering Council of Scotland (MCofS) have tackled.
They warn that public and animal health is threatened by irresponsible toileting because the waste could contaminate drinking water.
People can be put at risk to a cocktail of nasty pathogens, they say, such as cryptosporidium, campylobacter, aeromonas, e.coli O157 and giardia.
A spokeswoman at SNH says: "If you need to urinate, do so at least 30 metres from open water or rivers and streams.
"If you need to defecate, do so as far away as possible from buildings, from open water or rivers and streams, and from any farm animals."
She adds: "Bury faeces in a shallow hole and replace the turf."
The MCofS offers guidance in its leaflet Where to "Go" in the Great Outdoors.
It recommends taking home toilet paper in containers and cleaning hands using gels.
The council asks that people don't "go" near paths, huts, bothies and never in caves.
It suggests carrying a small trowel to make the task of digging a hole to bury waste easier.
And the leaflet adds: "When digging a hole is absolutely impossible and you are in a very remote place, spread excrement thinly or arrange rocks such that air can circulate. Avoid just putting a rock on top as it slows decomposition."
Snow White Facility
Five years ago, the Cairngorms Ranger Service launched the Cairngorm Poo Project following a boom in snow-holing, the digging of cave-like shelters into deep snow where walkers can spend a night or two on a hillside.
Ranger Nic Bullivant said snow-holing had traditionally been a life-saving skill learned by mountain guides, rescue teams, walkers and military personnel to protect themselves in bad weather.
"Now snow-holing has become a more recreational activity," he says. "The Cairngorms has earned a reputation, not quite correctly, as the place in Scotland where the snow is deep enough to do it."
However, waste being left behind by some in two areas of the Cairngorms raised concerns about possibility of streams flowing into the River Nethy and Loch Avon Basin.
The Poo Project, since renamed the Snow White Facility, provides walkers with biodegradable bags and plastic containers to keep them in.
Coming off the hill, the bags and their contents are dumped down the Poo Chute at the CairnGorm Mountain ski centre car park. The containers go into disinfectant before getting a further wash so they can be reused by others.
CairnGorm Mountain has a licence from the Scottish Environment Protection Agency to handle waste in this way.
Mr Bullivant says the scheme has been a huge success in encouraging responsible "free range toileting".
David Gibson, of the MCofS, said he was aware of the Coire Ardair complaint but could not recall similar incidents at other locations in recent years.
He added: "This doesn't mean that the issue does not exist, but that it isn't reported or perhaps not even spotted.
"Anything that assists in spreading the word about 'where to go' properly helps to encourage and educate good practice."