Raigmore Hospital meets majority of cleanliness standards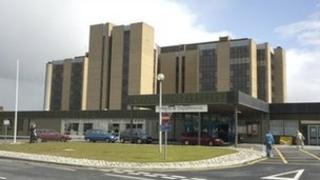 The majority of standards on infection controls are being met at Raigmore Hospital, the Healthcare Environment Inspectorate (HEI) has said.
Inspectors made an unannounced visit to the Inverness hospital in November to assess what improvements had been made since a visit in June last year.
Standards of cleanliness in wards were found to be poor during the inspection in June.
After the latest visit, the HEI said NHS Highland had taken positive action.
The children's ward, surgical high dependency unit, 2C oncology ward, 3B ear, nose and throat ward, 4C surgical ward, 6A medical assessment ward and 7C renal/gastrointestinal ward were inspected.
The HEI said the majority of national standards on cleanliness were being met.
It has, however, required NHS Highland to ensure all staff follow procedures on maintaining and documenting peripheral vascular and central venous catheters.
The inspectorate also said that clinical fridges were kept locked at all times when not in use and that keys are kept in a secure place.
It said this would ensure that staff adhered to safe and secure handling of medicines and avoid any risk to patients.