Road changes ahead of Kessock Bridge work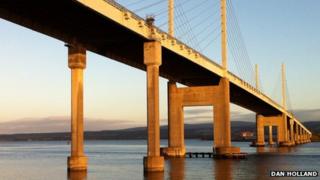 A number of improvements to roads at Inverness will be in place before work starts on the A9's Kessock Bridge, Transport Scotland has said.
The government agency will spend £13.2m on bringing the crossing up to modern standards.
The layout of roads leading to and from the bridge are to be completed before the work starts on 11 February.
Transport Scotland said the changes will include new traffic lights and roundabouts.
New traffic lights are being installed at the Longman Roundabout south of Kessock Bridge, Rose Street Roundabout and at the junction of Henderson and Longman Road.
Reduce disruption
A dedicated bus lane will be put in place on the A9 south running from the south of Tore Roundabout to the Kessock Bridge.
A new southbound slip road is being constructed from Stadium Road to the A9 south.
A dedicated bus lane will also be in place at Stadium Road approaching Longman Roundabout.
Transport Scotland said the permanent changes have been designed in conjunction with Highland Council to reduce congestion, both during the works on the bridge and in the future.
Earlier this month, work on the Stadium Road slip road caused major disruption for travellers headed for Inverness from the other side of the Kessock Bridge.
Some drivers took three hours to travel about five miles from the Tore Roundabout in the Black Isle to a roundabout across the bridge.
The disruption was caused by a delay in reopening a lane on the A9 which had been closed for road works.
Contractor Scotland Transerv apologised for the delays.