Efforts to capture large owl in Inverness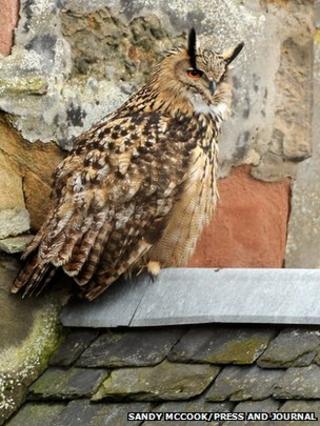 Efforts are being made to capture an eagle owl in Inverness.
Two men claim to have been attacked by the bird of prey, a large species of owl not native to the UK.
Tommy Horne, who runs Birds of Prey Rescue and has been trying to catch the owl, said it was most likely hunting for food rather than targeting the men.
Escaped eagle owls have previously been caught in Inverness in 2009 and in 2006, when an owl was seen feeding from bird tables in people's gardens.
Mr Horne said it was possible there were two eagle owls on the loose in the city.
He told the BBC's Good Morning Scotland programme: "There have been two sightings at the same time.
"Personally, I have never ever heard of a bird of prey attacking anyone. I think the bird is hungry and coming in to find food."
In 2010, there was debate among conservationists about a cull of eagle owls flying free in the UK.
There were concerns numbers of the birds were growing and posing a threat to native species.
The owls are native to continental Europe.