Exonerate! New play tackles Fighting Mac scandal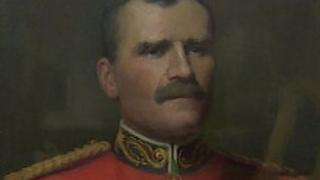 A new play could aid efforts to rehabilitate the reputation of one of the most celebrated soldiers of the Victorian era.
Maj Gen Sir Hector MacDonald, the son of a Ross-shire crofter, rose from the ranks to become a senior officer.
His military career was destroyed by rumours about his private life.
Actor David Gooderson, who has written the play So Great a Crime, believes MacDonald was a victim of a "snobbish" class system.
Nicknamed Fighting Mac, MacDonald was regarded by his peers to be a brilliant military strategist.
Some of his techniques in drill are still taught at the British Army's Sandhurst military academy today.
He led his men from the front and, after conspicuous bravery in the Afghan wars and in north and south Africa, he became an aide to Queen Victoria.
However, rumours about sexual activity with young men in Ceylon led to threats of a court martial and he shot himself in a Paris hotel in 1903.
Gooderson, whose acting roles have included playing Dalek creator Davros in Doctor Who, believes some fellow officers plotted against MacDonald because of his background.
"The people in Ceylon did treat him very badly," he said. "They made him feel very uncomfortable when he walked into a room and despised him for his social inadequacies, which is terrible.
"They were a real snobbish lot.
"There is evidence of what I think was a conspiracy against him."
He hopes the play will be picked up by a Scottish theatre company and staged in the Highlands.
Last year, the Clan Donald Society held a ceremony at a tower built in MacDonald's honour in his home town Dingwall.
Society members have been trying to salvage the soldier's reputation.