Inverness's Old High Church holey weathervane replaced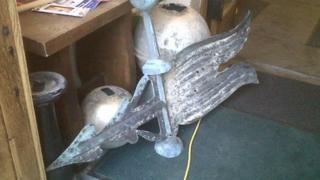 A church's weathervane that shows signs of having been shot at has been replaced with a new Celtic cross.
The weathervane had crowned the top of the tower of the Old High Church, the oldest kirk in Inverness.
Minister, the Reverend Peter Nimmo, said the wings on the vane appeared to have bullet holes.
He said what had caused the holes was a mystery, but theories included someone taking pot shots at the weathervane with an air gun.
Severe weather conditions and even balls fired from muskets have also been suggested as a cause.
The Rev Nimmo said: "Are they a result of Inverness's stormy history, like clan battles or Jacobite rebellions?
"For although the church was rebuilt following the Battle of Culloden, we know that parts of the tower are much older."
The weathervane has been replaced by a Celtic cross paid for by an anonymous donor, and installed as part of £20,000 of repairs to the tower.
The cross is Celtic style, with a ring around the intersection of the arms.
The Rev Nimmo said: "The cross of Christ is, of course, the universal symbol of Christianity around the world.
"It's especially appropriate that we should have a Celtic cross, as the church is on the site where St Columba of Iona is said to have first preached Christianity to the people of Inverness back in 565AD."
A short service of dedication will be held at the foot of the tower on Monday at 14:00.