Scottish history told in graphic novel-style guide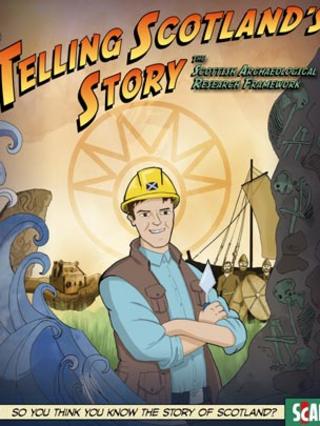 Some of Scotland's more unusual history has been told in a new guide written and illustrated in the style of a graphic novel.
Telling Scotland's History features the Storegga Tsunami, a giant wave that hit 8,000 years ago, and South Uist's Frankenstein's Mummies.
It also recalls 15th Century Scottish mercenaries who travelled Europe.
Written by James Crawford with art by Sha Nazir, the book is part of a larger collaborative project.
Called the Scottish Archaeological Research Framework (ScARF), the project brings together research by archaeologists, historians, scientists and specialists in climatology.
They hope to piece together a comprehensive record of Scotland's past.
Mr Crawford, who wrote the guide, is communications manager at the Royal Commission on the Ancient and Historical Monuments of Scotland (RCAHMS) and Mr Nazir an artist and designer with Glasgow's BlackHearted Press.
Previous work by Mr Nazir includes the design and production of School of the Damned, a comic book about a vampire infestation that opens with the evacuation of St Kilda in 1930.
Mummified skeletons
Stories in Telling Scotland's History include the Storegga Tsunami.
The giant wave coincided with extreme weather and rising sea levels and was part of a process that submerged land beneath the North Sea.
Known to archaeologists and historians as Doggerland, the landscape had offered early peoples a fertile hunting ground stretching from Aberdeen to Denmark.
South Uist's Frankenstein's Mummies are two mummified skeletons found buried under a Bronze Age house.
DNA testing revealed the 3,500-year-old skeletons were made up of the body parts of at least two separate people.
Robin Turner, head of survey and recording at RCAHMS said the comic-style guide had potential to engage a wide audience, especially young people.
"Our own expert staff, and many others from across the sector, are coming together to identify what we already know about Scotland's past and also, crucially, what we do not," he said.
"This story of the nation is changing fast as new technologies are applied and new discoveries are made."
Artist Sha Nazir said: "Graphic art is a perfect way of presenting key moments in Scottish history.
"Visual storytelling was one of the first methods our earliest ancestors used to communicate thoughts and ideas - think of prehistoric cave paintings or Egyptian hieroglyphics.
"You could say that comic books and archaeology have been linked together from the start."
Copies of Telling Scotland's History will be distributed to local authorities, museums, heritage centres and 3,000 fellows of the Society of Antiquaries.
It will also be made available in download form on the websites of ScARF, Society of Antiquaries of Scotland, RCAHMS and Historic Scotland.