Online retailers joint talks on Scottish parcel delivery charges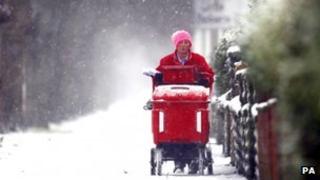 Key online retailers are joining talks in Edinburgh on fairer parcel delivery charges to rural parts of Scotland.
Government ministers Fergus Ewing and Richard Lochhead will chair the meeting with Consumer Focus Scotland, Royal Mail and Scottish Retail Consortium.
Representatives from Ebay, Argos and Homebase are also expected to attend.
The government, which hosted a "parcel summit" in Inverness last year, said the event would seek fairer and more flexible delivery services.
Research by Consumer Focus Scotland last year suggested that almost one in three people have difficulties getting their parcel because of inconvenient opening hours at local delivery offices.
Collection points were also said to be too far away for more than one in 10 people.
The watchdog said households in rural areas were worst affected with many facing high surcharges for delivery or some companies refusing to deliver.
Senior director Tricia McAuley told BBC Radio Scotland's Good Morning Scotland programme: "We want to find some solutions and we want to take this as a starting point for changing the way this market works for people in peripheral areas of our country."
She added: "What we haven't got is a cost system that makes sense, it's not transparent, it doesn't take into account the geography of Scotland, it confuses islands with the mainland.
"We have people who are at the other end of the Skye bridge who pay exorbitant amounts compared to people in Kyle of Lochalsh."
Ms McAuley said there were companies who charged a single rate across Scotland and the Edinburgh summit involved positive retailers, but that there were some "big business" in Scotland who had been invited but declined to attend.
Also last year, Citizens Advice Scotland published research that suggested more than a million people living in Scotland were being "routinely ripped off" by unfair delivery charges.
In a report, it said people living in some remote and rural areas were paying £18.60 extra to have goods bought online sent to their homes.