Barra plane 'struck by lightning' during high winds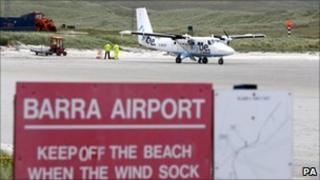 A small passenger plane is thought to have been hit by lightning as it flew between Glasgow and Barra in the Outer Hebrides during high winds on Monday.
Ten passengers and two crew were unhurt in the incident involving Loganair's Twin Otter plane.
They reported hearing a loud bang and seeing a flash as strong winds battered the aircraft.
The plane landed safely at Barra. A later inspection found the wing tip had been struck.
Loganair chief operating officer Phil Preston said: "On Monday afternoon the captain of a Twin Otter travelling from Glasgow to Barra with 10 passengers and two crew on board reported a lightning bolt close to the aircraft.
"As is standard procedure with incidents such as these, an inspection was later completed by our engineering crew in our hangar at Glasgow Airport. There was evidence that a wing tip had been struck, but the Twin Otter was cleared to continue operations."
He added: "Such incidents are not uncommon when flying in adverse weather and our pilots and aircraft are perfectly capable of dealing with these situations when they arise."
The Twin Otter is one of just a handful of planes capable of landing on Barra's beach runway.