Hard climb: Injured pro-climber on his rocky recovery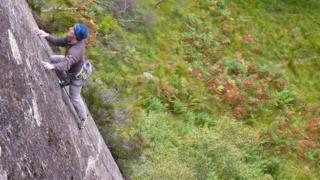 Dave MacLeod has struck new climbing routes on some of the UK's most challenging cliff faces. But, in October, a run-of-the-mill climb ended in a bad injury. Recovery has been a rocky road.
Two years ago, MacLeod and fellow climber Tim Emmett completed a gruelling new route live on television.
The pair achieved their feat with barely minutes left before the broadcast had to drop off air.
Later dubbed Usual Suspects, after the 1995 film starring Kevin Spacey, the climb is one of the toughest on Sron Ulladale, a towering rock face on the Harris in the Western Isles.
The following year, MacLeod, now 34, made the first free climb of Longhope Direct, a route on St John's Head, on Orkney. St John's Head is the UK's largest sea cliff and rises to more than 343m (1,128ft).
In free climbing, ropes and equipment are only there as protection against a fall and cannot be used as an aid.
In the months that followed, MacLeod completed a new free climb in Norway and shot a film about bouldering in Switzerland.
Last summer, he struck a new climb at an overhang, or roof, in ancient sandstone cliffs on the isle of Raasay.
Then, in the autumn of that year, the Lochaber-based climber was brought crashing back down to earth in an accident in familiar territory close to his home.
"My backyard for climbing is Glen Nevis," says MacLeod.
"I spend most of the summer there climbing new routes in Steall Gorge and was just on a normal climbing day - I was actually doing a really easy, warm up route - when I fell."
MacLeod had completed the warm up climb with friends and was being lowered on a rope, which was anchored at the top of the climb and controlled by another climber standing on the ground below.
Because his colleague had positioned himself further back than intended, the rope ran out 3m (10ft) from the bottom of the climb.
MacLeod said: "It is a common accident that climbers always have to be vigilant of.
"I was lowered off the end of the rope and I dropped the last 10ft, clipping a ledge with my right ankle, tumbled down a hill and ended up wrapped around a tree."
Through a combination of hopping, crawling and being carried, MacLeod was able to get out of the gorge and to a car and eventually to hospital.
After an examination, it was thought that he had damaged the arch of his foot, but three weeks later a private MRI scan revealed a flap of torn cartilage inside the joint.
MacLeod said: "This was a more serious injury because cartilage doesn't heal. I knew then that I would require surgery on my ankle."
'Was invincible'
It was the second time the climber, coach and writer had been badly injured.
He broke his left ankle when he was 19 and was on crutches for three months.
"Thinking back to what happened 15 years ago, I don't remember being worried about it," he says.
"I was told that it might give me some trouble later on, that I might have arthritis in that ankle in 10 years time, but that didn't seem to register with me. Like many teenage boys, I thought I was invincible."
MacLeod says that he now has a greater appreciation of the impact of injuries, the treatment of them and also rehabilitation. But with that knowledge has come a keener sense of awareness of how injuries might affect his ability to climb.
He said: "This time around, I was absolutely terrified of losing the function that I had."
As well as the potential effects on his climbing, MacLeod worried about not being able to run again.
"I have never really been into running," he said. "It was always something I had done as part of my training. But, after the fall, my attitude changed and, when I was able to run again for the first time, I really enjoyed it."
'Climb properly'
Almost five months since the accident, MacLeod is climbing again and recently attempted a new route on Ben Nevis.
But he said: "For a sportsperson, there is no end to the recovery. You are always recovering from injury. I still have a bit of trouble with that left ankle."
Ironically, at the time of his latest accident, MacLeod was in the process of writing a book about injuries.
"It is not about traumatic injuries, like an injury in a fall, but the injuries climbers get from training. There is not a lot of information available to climbers about injuries to fingers, elbows and the upper body," he said.
"I am also writing about the psychology of injuries and of dealing with injuries."
By the summer, MacLeod hopes to be climbing in the Alps and also exploring the Scottish islands and seeking out new routes.
He said: "Until a week ago, my only current goal was to learn to walk around and climb properly.
"But, just in that last week, I have realised that I am going to be okay and have been able to make plans."