Cairngorms avalanche: Third victim named as Penzance man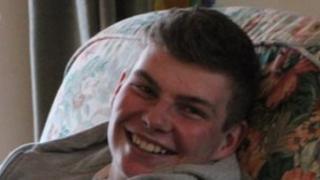 A man who died following an avalanche in the Highlands last Thursday has been named by police.
William Currie, 18, from Penzance, was on a course at the Glenmore Lodge centre when he died after the snow slide in the Chalamain Gap area.
Two RAF personnel on a separate trip in the area also died.
They were previously named as Flt Lt Fran Capps, 32, of Dulverton, Somerset, and Sqn Ldr Rimon Than, 33, who was based at RAF Valley in North Wales.
The avalanche struck as two groups of six climbers made their way up opposite sides of a gorge.
One group was part of a Glenmore Lodge-organised winter skills training course and the second was off-duty RAF personnel.
The three climbers were airlifted to Aberdeen Royal Infirmary but died of their injuries.
Police, Cairngorm mountain rescue team, Cairngorm mountain ski patrol, search and rescue dogs, RAF Lossiemouth's rescue team and three helicopters were involved in the rescue operation.
The Reverend Alistair Bolt from the Chapel Street Methodist Church in Penzance said: "On behalf of the community I just feel this is terribly sad.
"We're a very close-knit community down here. Lots of people know lots of people. We will be remembering them in our prayers and thoughts."