Highland Council to explore sponsorship deals for schools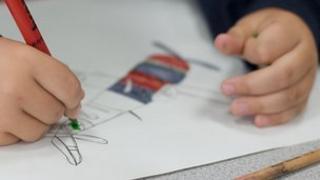 Highland Council is to look at the potential for generating income through sponsorship deals between the private sector and schools.
The move has been criticised by a union and a parents' group in an article in TES Magazine.
The teaching magazine suggested the move could lead to the selling of advertising space on the side of schools similar to some US schools.
The council said exploring sponsorship deals was agreed earlier this month.
Eileen Prior, executive director of the Scottish Parent Teacher Council, and Larry Flanagan, general secretary of the EIS, told TES Magazine that sponsorship deals involving schools could be controversial.
The magazine said that, in the US, advertisements could be found on school buses, on textbook covers and websites.
It added that it had been reported that one school was marketing its roof because the school lies directly in the flight path of a major airport.
In a statement, a Highland Council spokesperson told BBC News Scotland online: "In setting its budget for 2013/14-2014/15, members of Highland Council have agreed to examine the potential for generating additional income through the education, culture and sport service from sponsorship deals and/or general advertising agreements with the private sector.
"The adult and children's services committee proposed this in its budget and it was approved by the full Highland Council budget meeting on 7 February."
Last year, the local authority posted the first advertisement for a privately-owned business on its website.
Highland Council awarded weekly newspaper publisher Scottish Provincial Press a contract to attract advertising to its site.
The local authority said it had been encouraged by public feedback to seek more income from advertising and sponsorship of its services.
The first advert to appear was for prices of MoTs at a car garage.
Some roundabouts on roads maintained by Highland Council have been sponsored by companies for a number of years.
Staff payslips have also carried advertisements selling cars.