Highland Council 'not commercialising classrooms'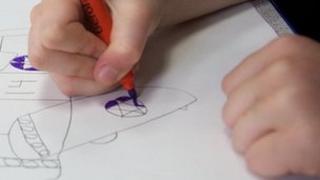 Sponsorship deals between businesses and Highland schools will not "commercialise the classroom", Highland Council's leader has said.
The local authority is to look at the potential for generating income through sponsorship deals between the private sector and schools.
Its move was criticised by a union and a parents' group in an article in TES Magazine last week.
But Drew Hendry said the council was seeking to boost job opportunities.
"This is very much about looking at future employment opportunities for people coming out of schools with employers who may have jobs for them in the future," he told BBC Radio Scotland.
"It is not about the commercialisation of the classroom. That wouldn't happen at all."
The teaching magazine, TES, suggested the move could lead to the selling of advertising space on the side of schools similar to some US schools.
Eileen Prior, executive director of the Scottish Parent Teacher Council, and Larry Flanagan, general secretary of the EIS, told TES Magazine that sponsorship deals involving schools could be controversial.
The magazine said that, in the US, advertisements could be found on school buses, on textbook covers and websites.
It added that it had been reported that one school was marketing its roof because the school lies directly in the flight path of a major airport.