Oscars 2013: How Scotland helps to link the big winners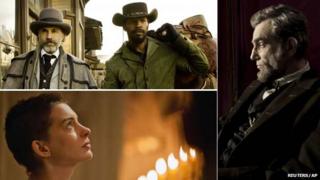 As the dust settles on another Oscar ceremony, some interesting Scottish connections help to link up the big winners - from Life of Pi to Les Miserables.
Let's start with David Magee who wrote the screenplay for one of the biggest winners on the night, Life of Pi.
Magee's first screenplay was Finding Neverland, a film about Kirriemuir-born writer JM Barrie and starring Kelly Macdonald. Macdonald voiced Merida, the main character of best animation Brave.
Brave's soundtrack features Julie Fowlis, a Gaelic singer living in Ross-shire - where Crispin Struthers, a film editor on Silver Linings Playbook, grew up.
Struthers previously worked on RocknRolla. It starred Scots actor Gerard Butler, who appeared in Law Abiding Citizen with Jamie Foxx, the lead in Django Unchained.
Django's wife was played by actress Kerry Washington, who appeared in The Last King of Scotland with James McAvoy. He grew up in Glasgow - the home city of Gary Lewis, who starred with Daniel Day-Lewis in Gangs of New York.
Day-Lewis is the lead in Lincoln, which also stars Joseph Gordon-Levitt, who also appeared in Batman film The Dark Knight Rises.
Scenes for The Dark Knight were filmed in the Cairngorms, a mountain range reported to have helped Edinburgh scientist Prof Peter Higgs come up with the Higgs boson theory. The Higgs boson is mentioned in 2002 film Solaris, and its lead, George Clooney, is a co-producer of Argo.
In Pearl Harbor, Argo's director and star Ben Affleck starred alongside Josh Hartnett. In the movie Lucky Number Slevin, directed by Scot Paul McGuigan, Hartnett talks about Sean Connery. Connery starred in Indiana Jones and the Last Crusade with Harrison Ford. Ford appeared in Cowboys and Aliens with Daniel Craig, the star of Skyfall.
Skyfall features scenes shot in Lochaber, where Les Miserables' Cameron Mackintosh has a home.
What does all this prove?
Could Scotland - and not Kevin Bacon - be the real centre of the movie universe?