Bagpipes teacher jailed for child pornography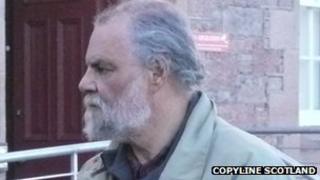 An internationally-renowned music teacher has been jailed for 18 months after downloading thousands of images and videos involving child pornography.
Dundee-born former soldier Alan Logan taught chanter and bagpipes and also made the musical instrument.
Logan, of Inverness, had earlier pleaded guilty to downloading 10,900 images and 1,800 videos.
The 69-year-old was jailed at Inverness Sheriff Court and placed on the sex offenders register for 10 years.
Logan was prosecuted on indictment.
It took several months to analyse his computer before police found the collection that he spent three years gathering and had categorised, the court was told.
The music tutor and father-of-two was caught during an online police surveillance operation.
His solicitor, Duncan Henderson, said Logan had not taken sexually explicit photographs of a child, or distributed any of the images he possessed.
Organised and categorised
"He is a divorcee and a first offender but is well aware the court may well be considering a custodial sentence," said Mr Henderson.
"But, in view of his lack of record, age and his early indication of a guilty plea, a non-custodial sentence could be considered.
"However, his files were organised and categorised, but he has never explained to me why he kept those images."