Protected status for Stornoway black pudding 'months away'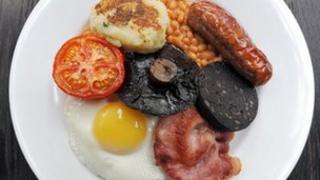 The European Union (EU) has still to rule on protected status for Stornoway black pudding.
The same protection as afforded to champagne and parmesan cheese has been sought for the food.
In November, it was thought the designation was weeks away from being awarded.
But an EU spokeswoman told BBC Radio Scotland that the registration process for Stornoway black pudding was months from being completed.
She said the draft regulation was now at a second consultation stage and registration would take one to two months after the end of this consultation process.
Called protected geographical indication, the status would mean puddings could only be labelled as being Stornoway if they were made on the Western Isles.
Labour's Rhoda Grant, who was born in Stornoway in Lewis, launched a campaign to the pudding registered in May.