'Exciting times' for Ross County and Inverness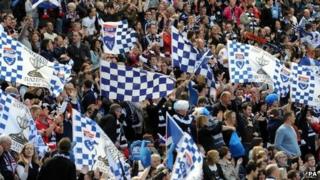 The chairman of Ross County FC has said his club and Highland rivals Inverness Caledonian Thistle have shaken the Scottish football scene.
Roy MacGregor told BBC Radio Scotland that central Scotland clubs were having to pay attention to the achievements of the Dingwall and Inverness teams.
Earlier this week, County and Caley Thistle were joint second place.
The two sides, which will meet in Dingwall on Saturday, are aiming for a top six finish in the SPL.
Inverness has played at the top level for several seasons. County were promoted at the end of last season.
Mr MacGregor said: "I know our good friends over in Inverness have been there for a number of years now and I don't think they have got the credit, particularly for what they have done in that league.
"I think with the two teams up there at the moment people are sitting up and saying 'there is something happening there. We don't quite understand it, we don't know what is going on, but it's working'."
The businessman added: "It is really just an exciting time and it's one that is making the rest of Scottish football sit up and consider what is going on."
On Thursday, Highland councillors praised the clubs' achievements.
The local authority will also host a civic reception for County on 25 March in Dingwall to celebrate the club's promotion to the SPL last season.