Raasay shooting rights could stay with crofters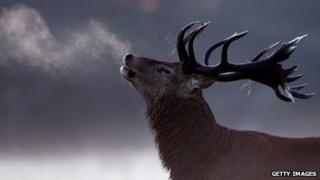 The lease to manage shooting and fishing rights on Raasay could remain in the hands of crofters long term, the environment minister has said.
The Scottish government had been accused of acting like an absentee landlord after the lease was awarded to an Ayrshire company.
Raasay Crofters' Association had managed the rights for 18 years.
Paul Wheelhouse said lawyers were examining the possibility of letting the rights directly to the crofters.
The Scottish government owns the lease which was put out to tender last year.
Raasay Crofters' Association, which was set up to handle the lease after a public agency gave it up, believed that even if it did not put in the highest bid it would retain the lease because minister recognised its economic importance to the small island.
The association and four other bodies bid for the 10-year lease and it was awarded to South Ayrshire Stalking, which put in the highest bid.
Good faith
Following a public row, First Minister Alex Salmond announced on Thursday that the company had agreed to relinquish the lease and the crofters were given a year's extension.
Mr Wheelhouse has told BBC Alba that officials had handled the tendering process in good faith.
He said the lease's importance to islanders had "slipped below the radar" and only latterly had the issue come to the attention of ministers.
Mr Wheelhouse said ending the tendering process for a low value lease, but one with significant benefits to the island community, was an option being explored.
He added: "There are some legal things we have to check because current legislation means that we have to offer open tenders.
"But there are some options which we are having explored by our legal director to examine whether we can take forward a let directly to the community."
Mr Wheelhouse said the future of the lease would be discussed with islanders.