Barra's beach airport on Brazilian TV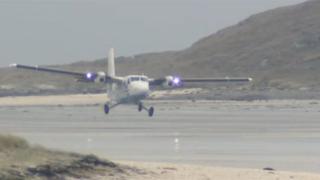 Tourism bosses hope a beach airport in the Western Isles will help to attract more visitors to Scotland from Brazil.
Barra Airport has featured on a prime-time evening news programme watched by 60 million Brazilians.
A crew from Globo TV, Brazil's largest media company, flew from Glasgow Airport to the island's Traigh Mhor airfield.
VisitScotland chairman Mike Cantlay said it was "tremendous exposure" for the island and the rest of Scotland.
Barra's tiny airport on the edge of the Atlantic Ocean has in the past been voted the world's most stunning landing spot.