Fuel's gold: The film set that duped drivers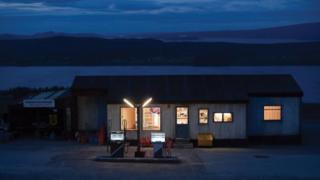 Shell, the debut feature film by writer-director Scott Graham gets its UK release this week. Shooting the story set in a remote filling station drew to the production some unexpected attention.
For travellers embarking on a long road trip through the Highlands, more than a little thought usually goes to making sure there is plenty fuel in the tank.
A filling station in this part of the world has become an increasingly rare sight.
Four years ago, a report commissioned by Highland Council suggested about half of the rural forecourts in the north of Scotland and the islands could close within a decade.
So when a petrol station appeared on a scenic route north of Dundonnell, in Wester Ross, it turned a few heads.
"We had one or two cars stop looking for fuel," says Scott Graham.
"Which was a great," he adds. "It meant we obviously did a good job."
The replica garage was built from scratch for the making of Shell, Graham's first feature length film.
The production team had hoped to find a disused station, or one operated on a seasonal basis, where they could film the writer-director's story.
However, little remained of abandoned sites and the team felt they could not impose on a working business.
Graham says: "We decided to build our own garage. We were able to use bits of garages that we had found while looking for one.
"One or two of us had a good idea of the kind of garage that used to pepper the Highlands. We were able to assemble something that was authentic enough for people to stop at it."
Sadly, Graham adds, the phoney filling station had to be demolished at the end of the filming.
Star Wars
Graham was born and brought up in the north east of Scotland and spent some time living in Glasgow.
While writing his story and later during the building of the station, Graham was reminded of childhood caravan holidays in the Highlands and trips between Glasgow and Fraserburgh when he was shooting a short film about his home town on the north east coast.
He says: "I had thought about doing a road movie in Scotland, but then became more interested in the kind of places you might stop at in a road movie."
Graham's stories and films explore the ties between people to families, or to a place.
Shell tells of a 17-year-old Shell's struggle to fly the nest and leave behind her life with her single parent father on their remote, and only occasionally visited, filling station.
Graham says: "There is something really interesting, something really melancholy, about places of isolation and about people that feel they have to stay on them.
"Someone like Shell is providing fuel to people so they can kind of move on with their lives while she herself cannot. There is something quite sad and brave about someone like that, I think."
The film opens on Friday and will be screened in Edinburgh, Glasgow and Inverness and from 22 March in Aberdeen and Dundee.
Graham, meanwhile, is already working on his next project which is set on Iona and involves a woman returning to a Christian community she grew up in.
His love of film started as a young boy at a screening of Star Wars: A New Hope. He fell asleep during the opening scene with its rebel spaceship being pursued by a massive Imperial Star Destroyer.
"I've seen Star Wars countless times since," says Graham.
"What I write and work on now is so different from a film like Star Wars. But that sense of everyone being in a darkened room and watching a story unfold on a big screen, there was something magical about that."
When he started writing his own stories for film Graham worried that cinema, like Highland filling stations, was in decline.
He says: "It's heartening that people still want to go to the cinema and watch films because there was a point, 10 to 15 years ago, when people were talking about whether or not audiences would still want to being going to the cinema.
"But they are and I'm glad because I am finally making films."