Inverness's Eastgate shopping centre sold in £250m deal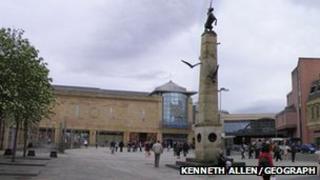 The biggest shopping centre in the Highlands has been taken by its former owners as part of a £250m business deal.
F&C REIT has bought the Eastgate in Inverness on behalf of clients from property development and investment firm Grosvenor.
The mall covers a 320,000sq ft (29,750 sq m) area in the city centre.
Royal & Sun Alliance built the centre in two phases, the first 30 years ago. The second phase was opened in 2003.
Grosvenor bought the Eastgate in 2005 for a reported £170m.
The £250m deal involves the Eastgate and two centres in England.
Joanne Wilkes, of F&C REIT, said: "We are delighted to be taking an active role in one of the country's top shopping destinations and look forward to working with our customers and the local business community to ensure Eastgate is managed and developed with everyone's best interests at heart.
"We are confident that we can use our expertise to strengthen the centre's position as the retail centrepiece of the region and we will be engaging closely with the Highland Council in an effort to do so."