Mountaineering group warns of return of winter conditions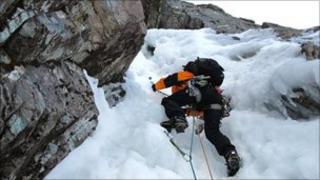 The Mountaineering Council of Scotland (MCofS) has warned walkers and climbers to expect "full-on" winter conditions in the hills and mountains.
The Sportscotland Avalanche Information Service has highlighted the return of wintry weather following a recent spell of sunshine and little wind.
The MCofS has urged walkers and climbers to check weather and avalanche forecasts before heading out.
This winter has seen several avalanches claim the lives of climbers.
The mountaineering council said there had been a change in the weather ahead of the weekend from "stable conditions of the last few weeks, to a return to full-on winter, with winds, unstable snow and a need for good route selection".