Climber seriously injured in Cairngorms fall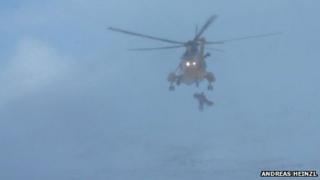 A man is receiving treatment in hospital after falling between 200m (656ft) and 250m (820ft) in Coire an t-Sneachda in the Cairngorms.
Police, Cairngorm Mountain Rescue Team and a helicopter crew from RAF Lossiemouth were alerted to the fallen climber at about 14:20 on Sunday.
The man was airlifted to Raigmore Hospital in Inverness.
Police said the climber was badly injured in the fall. People on winters skills courses assisted in his rescue.
The man was believed to have fallen in an area between Aladdin's and Fluted Buttress.
Climbers on winter skills courses in the area assisted in co-ordinating the rescue.
Andreas Heinzl, who was leading a course, said: "My winter mountain skills course team was first on the scene and raised the alert.
"The climber stated he was only two metres away from the top of his climb when he fell.
"Instructors of other winter skills course teams from Glenmore Lodge, which was at another area in Coire an t-Sneachda at the time, co-ordinated the rescue of the fallen climber once they arrived."
Mr Heinzl added: "The climber was very lucky to have survived and that people were close by to attend to him straight away."