Homes planned for land on Inverness bull stud farm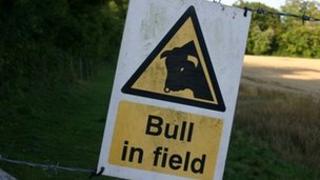 Up to 190 homes have been proposed for three fields at a Scottish government-owned bull stud farm in Inverness.
Planning permission in principle has been sought for the development at Knocknagael Farm.
The land, proposed for housing and woodland, borders existing housing schemes at Holm Dell, Essich Gardens and Culduthel Mains Crescent.
The Crofting Commission, which had managed the farm, suggested in 2011 that the land could be developed.
Knocknagael is now managed by the Scottish Government Rural Payments and Inspections Division.
In 2011, the commission said that selling the land would raise funds to help modernise the stud.
The Crofting Commission was among organisations and individuals that had responded to a call from Highland Council for potential sites for development.
The land is surplus to the needs of Knocknagael Farm.
Opponents of the project said the land should to be kept for food production and flood management.
They said eight Inverness farms had been lost to development in the past 30 years.
A flyer distributed locally asks that people send their objections to the local authority's ePlanning Centre website by Friday, the cut-off date for comments for or against the proposal.
Under the plans, 120 to 150 homes would be built on one field and 25 to 40 on another. A third area would be planted with trees and managed as a native woodland.
Cycle ways and paths would also be created.