Warning of snow and ice for Scotland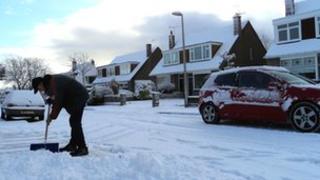 The Met Office has warned that snow and ice could affect large parts of Scotland over the next few days.
It has issued a yellow "be aware" warning for Scotland, northern England and Wales on Saturday.
Bad weather has been forecast to continue over Scotland until Tuesday. Eastern areas are expected to be the worst affected on Monday and Tuesday.
Snow could accumulate to 10cm - more than 3in - on high ground and fall as wet snow at lower levels.
The Met Office said there would be drier spells, but these would bring the risk of ice forming on roads.
Wintry weather affected parts of Scotland, including the north east and the Highlands, earlier this week.
Tayside Police said the A823 in Perthshire was closed southbound on Saturday afternoon, between the A9 at Gleneagles and Glendevon, because of snow.
They said cars were unable to get up the hill and conditions were getting worse.