Three fishermen rescued after boat hits rocks near Skye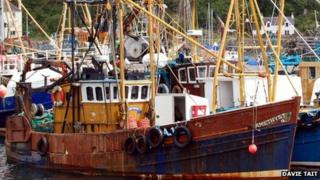 Three fishermen have been rescued after their boat ran aground off the south of Skye.
The 15m (49.2ft) prawn trawler Amethyst hit rocks off the Point of Sleat at about 05:00.
The crew managed to get into a liferaft and were picked up by a nearby fish farm vessel, Ronja Pioneer. The men later transferred to Mallaig lifeboat.
The Maritime and Coastguard Agency said the Amethyst's crew made proper use of their life-saving equipment.
The Mallaig lifeboat crew freed the trawler from the rocks and towed it to Mallaig harbour.
Three other fishing vessels - Ocean Trust, Santa Maria and Silver Dawn - had also headed to the scene to offer assistance.
Stornoway Coastguard helicopter was also launched.
'Responded immediately'
Carol Collins, Stornoway Coastguard watch manager, praised the actions of the fishing boat crews.
She said: "This incident highlights how the correct lifesaving apparatus does save lives.
"The three crew of the Amethyst were able to safely transfer into their liferaft which enabled the Ronja Pioneer to recover them.
"We are grateful to the local vessels that responded immediately to the Amethyst's call for assistance, and for keeping us informed throughout."
The coastguard officer also thanked Mallaig Fisherman's Mission for offering the three crewmen shelter after the incident.