New model for GP cover in parts of Lochaber agreed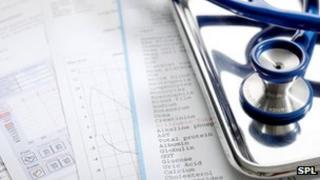 A new model for delivering GP services in parts of Lochaber has been agreed between NHS Highland and doctors.
Three practices will link up to provide eight GPs who will work in teams out of Mallaig and Acharacle.
NHS Highland said the move would ensure the continuation of out-of-hours services and routine care. Community nurses will also be part of the set up.
The process of recruiting doctors to the eight-GP team will be begin in April.
Dr Iain Gartshore will lead the development of the multi-practice approach involving Mallaig/Arisaig, Acharacle and Small Isles practices.
Gill McVicar, director of operations for north and west Highland at NHS Highland, said there was still a lot of planning work to do on the Lochaber project.
She said there would be ongoing dialogue with communities.
Ms McVicar added: "Dr Gartshore will take over the running of the practices under a formal agreement with NHS Highland from 1 April, with our ongoing support, and with a view to going live with the new model in October.
"I am looking forward to working with Dr Gartshore, the local team and communities on implementing this new model."
Dr Gartshore said: "NHS Highland has recognised that a new model of working is required to support not just rural communities but also the NHS teams which provide GP and nursing services."
'Very disappointed'
The new model forms part of wider work being led by NHS Highland and the Scottish government to come up with new ways of delivering primary health care in remote and rural areas.
Providing GP services in the Highlands has been a challenge.
NHS Highland's efforts to appoint a permanent GP in Applecross in Wester Ross fell through last week.
The health board said it was "very disappointed."
A locum GP was offered the chance to take over Applecross Medical Practice, but NHS Highland said he had decided to leave the area.
The health board will continue to bring in locums until a long term solution can be found.
People living in west Ardnamurchan had concerns about a lack of out-of-hours cover following the retirement of the district nurse and two GPs last year.
Since then a team of emergency responders, including an ambulance technician, has been established to provide the cover.
In 2011, residents from Glenelg and Arnisdale staged a demonstration following concerns about how medical care would be delivered to their communities.