Caithness beach 'apt' site for poet Neruda's words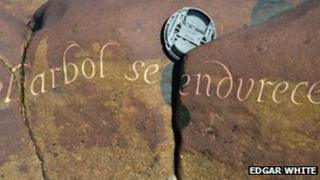 Chile's greatest poet would have appreciated words from one of his works being carved into rocks on a Scottish coastline, an academic has said.
A poem by Pablo Neruda has been found on an Old Red Sandstone reef in Caithness.
The Nobel Prize winner and political activist died in 1973.
Dominic Moran, of Oxford University's Christ Church college, said given the poet's themes it was a fitting location to find the words.
Edgar White came across the carvings close to his home. He hopes to find out who carved the words on rocks at Bay of Sannick, near John O'Groats and why.
Mr Moran, a tutor in Spanish at Christ Church, specialises in 20th Century Spanish American literature.
He has written a critical edition of Neruda's Twenty Love Poems and a Song of Despair and, in 2009, he published a short literary biography of the poet.
Mr Moran said the words found at Bay of Sannick were from the 17th of 30 pieces of Neruda's collection Las piedras del cielo - Sky Stones - which was published in 1970.
He said: "By that time Neruda was known the world over as a committed political poet.
"A line-and-a-half carved into the rock reads 'Cae el alma del hombre al pudridero/con su envoltura frágil', which might be translated as something like 'Man's soul, with its flimsy wrapping/falls into the cesspit'."
Mr Moran said the words were reminiscent of the early sections of Neruda's great 1945 poem Heights of Macchu Picchu, which contrasts the "spontaneous and ceaseless self-renewal of Nature with Man's impermanence".
The academic added: "Still, however we view the poem, given the subject matter I can't think of a more apt place for that particular line to be carved - not just on a rock, but on a rock on the shore.
"Neruda, perhaps the greatest poet of the sea in the Spanish language, lived the last 20-odd years of his life at Isla Negra, on the Chilean coast, and wrote endlessly and lovingly about it.
"I'm sure that he would have approved of this undertaking."