Ice, wind and fire hit the Highlands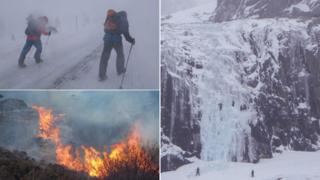 High winds, freezing temperatures and wild fires affected parts of the Highlands at the weekend.
The Sportscotland Avalanche Information Service (SAIS) reported winds of 100mph in the northern Cairngorms on Saturday.
The SAIS also described conditions as "wild" and "stormy" in the southern Cairngorms, Glencoe and Lochaber where climbers tackled an ice climb.
A wild fire came close to communities in north-west Sutherland on Friday and Saturday.
The blaze burned near Scourie and Eddrachilles, south of Cape Wrath.
For a time on Saturday properties were without power after the flames caused damage to the electricity supply.
Fire crews from Scourie, Lochinver and Durness tackled the wild fire between 22:30 on Friday and 02:18 on Saturday.
Crews from Scourie, Durness and Lairg were back on scene at 07:30 on Saturday before finally being stood down at 14:40.
Small earthquake
Upland areas of the Highlands were affected by snow and ice over the weekend.
On Friday afternoon, three walkers were injured in an avalanche to the west of the Sugar Bowl car park in the Cairngorms.
Cairngorm Mountain Rescue Team went to their aid.
Police said that one of the three, a man, was described as "walking wounded".
Two women who were hurt were taken to Raigmore Hospital in Inverness where they were treated for minor injuries and later released.
As well as the weather conditions, a small earthquake of a 2.0 magnitude was recorded at Loch Maree in Wester Ross on Sunday.
The British Geological Survey said the quake was felt by residents in Gairloch.