Lews Castle museum project wins final £1.8m funding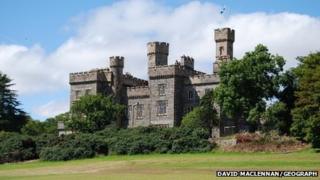 Plans to restore a castle in the Western Isles built in 1847 for a rich opium trader have secured the £1.8m needed to complete the project.
The money to help transform Lews Castle in Stornoway into a museum has been granted by the European Regional Development Fund.
About £14m is to be spent on restoring and converting the property, which has been shut for almost 25 years.
The museum will use Gaelic as its first language, and depict island life.
Permanent displays will include six of the world famous 12th Century Lewis Chessmen ivory chess pieces.
The site will also offer four-star hotel accommodation.
Finance Secretary John Swinney confirmed the final £1.8m funding when he visited on Wednesday.
"This exciting project can transform the way we engage with the unique heritage of the Western Isles," he said.
"The development will create new jobs, in both the short and the long-term, and contribute more than £3m to the local economy during the construction phase alone."
Opium fortune
Lews Castle was constructed in 1847 for James Matheson, who made his fortune from the opium trade.
Opium exported from China and India was often mixed with tobacco by smokers.
William Lever, whose family business went on to become food and household products brand Unilever, owned the castle from 1918 to 1923.
He installed central heating, electric lighting and internal telephones, and extended the ballroom to accommodate his parties.
During World War II it served as a naval hospital and accommodation for the crew of 700 Naval Air Squadron who operated a detachment of amphibious bi-planes from a slipway in the castle grounds.
Welcoming news of the funding, Angus Campbell, leader of Comhairle nan Eilean Siar, said: "This is excellent news for the Outer Hebrides and secures the funding package for what is a major project for the islands."