Trouble-hit Golden Bridge installed over A9 in Inverness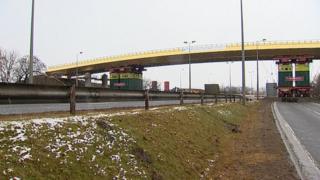 Efforts to lift a massive pedestrian bridge across a section of the A9 in Inverness were hit by problems with a hoisting jack at the weekend.
Work on the 84m crossing in the Beechwood area of the city had been scheduled to be completed overnight on Saturday but came to a halt.
It appears part of the wheel section of the one of the jacks buckled.
The pedestrian bridge was installed overnight on Sunday and the section of A9 road was reopened.
Contractor Morgan Sindall said a mechanical problem had affected the operation at the weekend.
The section of the A9 between the Raigmore Interchange and Sir Walter Scott Drive closed again at 19:00 on Sunday and reopened at 07:00 on Monday.
A spokeswoman for the contractor said on Sunday: "Construction and infrastructure company Morgan Sindall, which is installing the bridge, is working extremely hard with its sub-contractors and partners to fix the mechanical problem.
"Morgan Sindall apologises for any inconvenience caused."
The new pedestrian and cycle bridge connects Raigmore estate with the Inverness Campus development.
The bridge was transported as a whole structure from the Inverness Campus site and inched along the A9 on Saturday night. It was then being jacked-up into position.
Ruaraidh MacNeil, Highlands and Islands Enterprise's project director for Inverness Campus, said: "This is a landmark project for Inverness - the Golden Bridge will welcome locals and visitors alike when they arrive in the capital of the Highlands."
He added: "Installing the bridge is a complex civil engineering task, and public safety is a key consideration."
Mr MacNeil said he understood people may want to come and see the installation but advice from police and transport experts was to remain clear while work was in progress.