Shawbost-based Harris Tweed firm targets US and Canada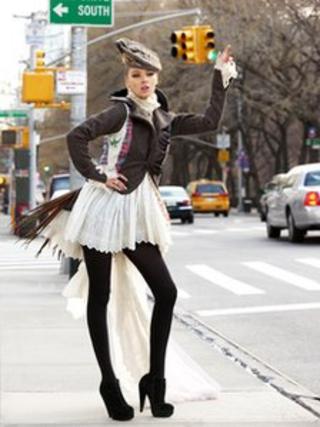 The biggest producer of Harris Tweed hopes to revive sales of the fabric to the US and Canada.
For more than 50 years North America was the biggest export market for the cloth woven on the Western Isles.
Price wars between rival mills led to a fall in sales in the 1980s. Japan and Germany are now the major importers.
Harris Tweed Hebrides, which accounts for 90% of production, has teamed up with an international advertising firm in an effort to resurrect the market.
The Shawbost-based company and agency Leo Burnett will promote sales using social media.
Margaret MacLeod, Harris Tweed Hebrides market development director, said there was potential demand for the fabric in North America.
She told BBC Alba: "Various things happened through the 1980s due to import issues and price wars between the different mills that really weren't helpful.
"But I think year on year we have seen that business come back.
"People are looking for style, looking for quality and looking for heritage and all of those things Harris Tweed can offer."
Chief executive Ian Angus MacKenzie said Harris Tweed Hebrides had just had its biggest single order from the US since the company started in 2007.
He added: "However, it is still a long way from the glory days which lasted more than 50 years and only really ended in the 1980s when the mills got involved in price cutting and other short-term measures.
"Canada itself used to be a huge market and the potential is still there.
"The more people are reminded of the heritage, style and quality of Harris Tweed the better, so we think this new initiative can be a really useful tool."
Part of the company's marketing campaign is using Glasgow-based social media platform, KILTR.
The latest version of the website is being showcased at New York's Scotland Week and will be launched in Scotland next month.