Highland Wildlife Park's rare Amur tigers mating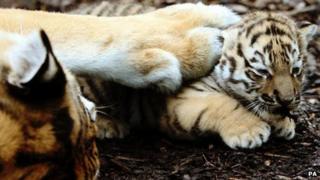 The Highland Wildlife Park is hopeful that a litter of rare Amur tiger cubs could be born there later this year.
The Royal Zoological Society of Scotland (RZSS) said the park's pair of adult tigers have been mating since January.
Three dens have been built away from public view in the tigers' enclosure where female Dominika can give birth to the cubs, if she falls pregnant.
Dominika is one of a litter of three tigers born at the park in 2009.
Her siblings are at other zoos.
Dominika shares an enclosure with a male called Marty, who arrived last year from a zoo in the Czech Republic.
Up to 500 Amur tigers, also known as Siberian tigers, are thought to survive in the wild in the birch forests of eastern Russia.
The gestation period of Amur tigers, the world's largest big cat, is between 103 to 110 days. Females usually give birth to a litter of two to three cubs, but have been known to give birth to as many as six.
Dominika's mother Sasha was put down in 2011 after her health started to fail and she began exhibiting odd behaviour as she got older.
Sasha's long-time mate Yuri was put down in 2010.
Douglas Richardson, head of living collections for the Highland Wildlife Park, which is situated near Aviemore, said Marty and Dominika were the right age to start breeding.
He said: "While we are hopeful that Dominika will become pregnant this year it is currently too early to tell if this is the case.
"Three secluded cubbing dens have been created for her in different parts of her enclosure and her behaviour is monitored closely for any changes that may indicate an impending birth.
"However, due to the more private nature of big cats and the fact that Dominika has not given birth before, we may not know for certain until shortly before the cubs are born."