CIA wore Harris Tweed says Argo agent Tony Mendez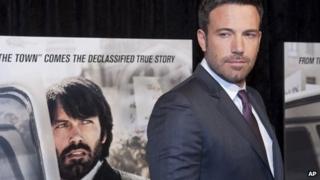 Harris Tweed jackets were the "uniform" of CIA agents when working overseas, a former intelligence officer has said.
Tony Mendez was involved in the rescue of six Americans hiding in Tehran after the storming of the US embassy in November 1979.
In Argo, the Oscar-winning film about the rescue, Mendez is played by Ben Affleck, who wore tweed in the movie.
In an interview with The Guardian, Mendez said Harris Tweed was favoured by US spies during the Cold War.
The former CIA agent was a guest of honour at a lunch in New York hosted by the Harris Tweed industry. The lunch formed part of a new campaign to promote the fabric in the US.
Mendez told The Guardian: "That was our uniform.
"The jackets were representative of our group. Those of us in the CIA who did overseas work, work in the field.
"If you were in the field during the Blitz, you wore a trench coat. If you were tracking Ivan (the Soviet Union and its allies), you had Harris Tweed."
For more than 50 years North America was the biggest export market for the cloth, which is woven on the Western Isles.
Price wars between rival mills led to a fall in sales in the 1980s. Japan and Germany are now the major importers.
Harris Tweed Hebrides, which accounts for 90% of production, has teamed up with an international advertising firm in an effort to resurrect the market.