Golden Bridge hitch not mentioned in official video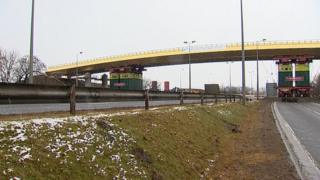 A video promoting the installation of a 290-tonne foot bridge has not mentioned problems that delayed the project.
The Golden Bridge was to be installed over the A9 at Inverness overnight on Saturday, but problems with a hoisting jack suspended the operation.
The crossing was put into position overnight on Sunday.
The video on Highlands and Islands Enterprise's website was uploaded on Monday without mention of the hitch.
The 18 minute 30 second film was still running without the information on Wednesday.
Interviewees include senior staff from HIE and contractor Morgan Sindall.
During the video, HIE's chief executive Alex Paterson is seen standing near the bridge on Saturday night. He speaks of his hopes of watching the bridge being installed in the "next half hour or so".
Towards the end of the film a contractor talks about how the operation was completed in one night with minimum impact on users of the A9.
The Golden Bridge is a key link between a new campus being built at Beechwood and housing and businesses in the Raigmore area of the city.
Scottish government agency HIE is leading the campus project, which aims to create new employment, research and business opportunities in the Highlands.
In a statement, HIE said: ""Due to a mechanical problem the installation of the 'Golden Bridge', linking the new Inverness Campus to the city centre, took one more night than was anticipated.
"Currently we have posted a video from the first night - including interviews and footage of the bridge being moved. When the second night's footage is available we will post it on the Inverness Campus website to show the completion of the process.
"We believe it's a striking new visual feature at a key entrance to the city and we hope local people and visitors will find it an attractive new addition to the built environment of the Highland capital."