Reverse polarity a risk to climbers, mountain body warns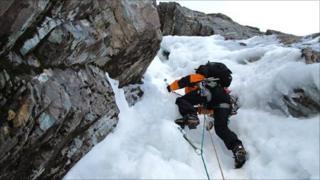 Walkers risk making potentially fatal navigational errors because items they carry can stop compasses from working, a mountaineering group warns.
Mountaineering Council of Scotland said incidents where compasses were affected by reverse polarity were increasing.
Magnets inside mobile phone cases and GPS devices and also the metal in car keys and under-wired bras could affect compass needles, the MCofS warned.
It said walkers and climbers were at greatest risk during bad weather.
MCofS safety officer Heather Morning has highlighted the issue after Nigel Williams, head of training at Glenmore Lodge, near Aviemore, wrote about the problem in the Scottish Mountaineer magazine.
Ms Morning said a call from Mr Williams for experiences of reverse polarity had seen stories from outdoor enthusiasts come "flooding in".
She said needles could be switched from point north to south, sending people off in the wrong direction while trying to navigate off a hill or mountain in foul weather.
'Causing havoc'
The safety officer, who has experienced reverse polarity on three occasions in the past three months, said: "It's a fact, the catalyst for a substantial number of mountain rescue call outs in the UK is either directly or partially a result of a navigation error.
"Is that error always the fault of the individual navigator? Or is there some insidious problem looming, causing havoc with our previously extremely reliable navigation tool - the compass?"
Magnets in avalanche transceivers, radios, personal locator beacons (PLBs) and cameras may also affect the map reading tool, she said.
It has been legal to use PLBs on land since January last year. The devices which can help the emergency services track down missing climbers and hillwalkers were previously restricted for use at sea and by aircraft crews.
Ms Morning added: "A compass is a precise measuring instrument and should be treated accordingly."
On its website, the MCofS has posted information on the problem, potential cures and details on a manufacturer that will re-magnetise its compasses.