Row over muir burning risk to eagles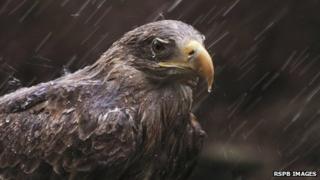 Gamekeepers and bird protection workers have clashed over the risk muir burning poses to eagle nests.
Earlier this month, the RSPB Scotland said dozens of eagle and other birds' nests may have been lost in moor fires.
The Scottish Gamekeepers Association (SGA) said the claim was misleading and an attempt to discredit the legitimate use of fire to regenerate land.
RSPB Scotland responded with what it said was evidence of nests failing because of the fires.
Last week, the bird conservation charity said it was seriously concerned about the impact on eagles and other species which nest in open moorland.
It said dozens of sites were potentially at risk.
RSPB Scotland's warning came as almost 200 fires burned across the Highlands and Islands.
Between October and April, crofters, farmers and landowners are permitted to carry out muir burning as a way to regenerate grouse moors and grazing land. However, fire crews had to be called out to tackle some fires that had burned out of control.
Scottish Land and Estates, which represents landowners, said there had also been incidents where fires were accidently started by members of the public during "tinderbox" conditions.
The SGA said RSPB Scotland's concerns were not backed by evidence of affected nests.
Association chairman Alex Hogg said: "These stories grab headlines but offer very little insight to the public.
"Eagles generally nest in high rocky areas and the talk of huge impacts, we believe, is misleading as well as being a deliberate political attempt to discredit muir burning as a legitimate and effective management tool."
Mr Hogg said that Scotland's golden eagle population has been stable for 20 years according to British Trust for Ornithology figures.
He added: "They are green-listed in the UK as a species of least conservation concern.
"It is highly unlikely, for example, that the Scottish government would have sanctioned the donation of 66 eagle chicks from Scotland for the Irish Golden Eagle Reintroduction project if eagles were hanging by a thread in this country."
In response, RSPB Scotland said a fire on north Lewis had burned through an occupied white-tailed sea eagle nest.
It also said golden eagles had abandoned a fire-hit site on North Uist and flames had come within 10m (32.9ft) of a sea eagle nest on an island off Barra.
RSPB Scotland said it was awaiting reports on nest sites in other parts of the Highlands, including Lochaber.
'Usual paranoia'
Spokesman James Reynolds said the SGA's accusations of scaremongering "smacks of their usual paranoia, feeling accusations of guilt where none were asserted".
He added: "The early evidence of failed nests clearly shows that such uncontrolled fires are demonstrably a real risk to our eagle populations.
"The Muirburn Code requires practitioners to identify situations where burning should not be carried out, including sites traditionally used for nesting by legally-protected birds of prey.
"Compliance with the Muirburn Code is one of the requirements for the receipt of agricultural subsidy. We call on the authorities to help promulgate best practice and to take firm action where there is evidence of irresponsible behaviour in setting of hill fires."
Scottish Land and Estates said its investigations had found that fires in the far north and west of Scotland were on non-managed land. It said there had been no fires on grouse moors in the areas.
The organisation's Tim Baynes said: "While our members have been ready and willing to help in the wildfire fights, it has been wrongly reported that moorland burning is the cause of the fires since there is almost no burning of heather for grouse management in these parts of Scotland, as there are very few grouse.
"Indeed none of the wildfires have been on land used as grouse moor.
"Carefully managed muirburn should not be confused with the burning of large areas of grassland for grazing in the north and west of Scotland."
The row marks the latest in a war of words between the SGA and RSPB over birds of prey.
In 2011, the SGA raised concerns about whether sea eagles could differentiate between children and their natural prey.
The comment followed an incident where a senior clergyman was injured by a young eagle as he tried to scare it away after it attacked one of his geese.
The SGA called for a public inquiry into the impact of the reintroduction of the birds on the east coast.
RSPB Scotland described the small child claim as "alarmist nonsense".