Countdown to Fort William Mountain Bike World Cup starts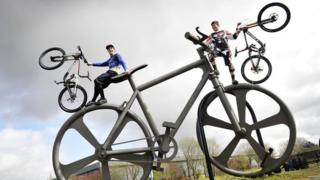 Two Scottish cyclists have officially launched the start of the countdown to this summer's Fort William Mountain Bike World Cup.
Ruaridh Cunningham, from the Scottish Borders, and Inverness-born Greg Williamson grew up watching the event in Lochaber and now take park.
The pair started the countdown to the competition on 8 and 9 June at Bankies Bike sculpture at Clydebank.
The world cup draws crowds of 20,000 spectators to Nevis Range.
Williamson said: "For me Fort William is the best event of the season.
"The track is fantastic, with some real crowd pleasing jumps and obstacles. The spectators create an incredible atmosphere and the riders on the tour always look forward to heading to Scotland."