Daily avalanche reports for Scottish mountains wound up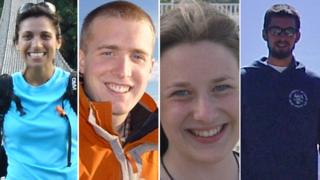 Daily avalanche information reports for five mountain areas in Scotland have ended for the latest season.
From Friday, weekend forecasts will be issued for Northern and Southern Cairngorms, Lochaber, Glencoe and Creag Meagaidh while snow remains.
Sportscotland Avalanche Information Service (SAIS), which provides the reports, has recorded 129 avalanches this season.
Eight people have lost their lives in incidents this year.
In January, four people died in Glencoe after they were caught up in a snow slide on Bidean Nam Bian.
They were later named as Christopher Bell, from Blackburn, Una Finnegan from County Londonderry, Tom Chesters, from Sidmouth in Devon, and Dr Rachel Majumdar from Merseyside.
The following month, three people were killed in the Cairngorms. They were part of two separate groups climbing up opposite sides of a gorge in the Chalamain Gap area.
Two off-duty RAF personnel Fran Capps, 32, from Dulverton in Somerset, and Sqn Ldr Rimon Than, 33, died.
The third victim was William Currie, 18, from Penzance, who was on a winter skills training course.
Last month, Daniel Maddox, 41, from Clackmannanshire, died in an avalanche while off-piste skiing near the Glencoe Mountain snow sports centre.
On its website, SAIS said its daily avalanche information reports were wound up on Sunday.
It said walkers, climbers and skiers should remain vigilante to the risk of avalanches.
The service said: "Avalanche hazard considerations should always be part of any winter hill goers daily plans and we would recommend that climbers, walkers and off-piste skiers currently venturing into the hills, continue to note snow and weather conditions in respect of any potential avalanche hazard.
"Be prepared to modify your plans accordingly.
"Future forecast provision requirements will be assessed on an ongoing basis according to weather and snowpack conditions and other factors."