Man who attacked tourist claims jail term 'excessive'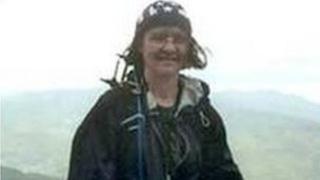 A man given a life sentence for attacking a tourist who later died has claimed that the minimum length of his sentence is "excessive".
Colin Ross, 40, was found guilty of attempted murder following a frenzied attack on US teacher Marty Layman-Mendonca in July 2006.
A case review argued the jail term of at least 20 years was excessive.
Three judges heard Ross's appeal at the Court of Criminal Appeal in Edinburgh and will give a ruling later this year.
Ms Layman-Mendonca was hiking on the Great Glen Way, a few miles south of Inverness, in July 2006, when she was attacked by Ross.
He beat her with a metal pipe and boulder.
The primary school teacher was left in a coma and after three months in hospital in Inverness she was flown back to the US but died a month later.
Ross, formerly of Waterloo Place, Inverness, had been freed from an earlier three-year prison sentence imposed after he attacked a female German holidaymaker near Cawdor Castle.
He was on the sex offenders register and under supervision and subject to an order banning him from approaching women at the time of the attack on Ms Layman-Mendonca.
'Senseless' assault
In December 2006, Ross, of Inverness, became the first person to get an Order for Lifelong Restriction, meaning he would be monitored for life.
Sentencing Ross at the High Court in Edinburgh, Lord Wheatley ordered him to serve at least 20 years before he was considered for parole.
Ross, who admitted attempted murder at an earlier hearing, was told that he had committed a "savage and senseless" assault on a defenceless woman.
In January this year, Ross's case was referred to appeal judges by the Scottish Criminal Cases Review Commission which looks at alleged miscarriages of justice.
At the Court of Criminal Appeal in Edinburgh, Shelagh McCall, counsel for Ross, told the three judges that the starting point taken by Lord Wheatley in sentencing him was "excessive".
Ms McCall said: "The starting point selected here of 25 years was considerably in excess of what would be an appropriate notional sentence."
She pointed out such terms were not imposed in cases of attempted murder involving guns, including one in which a police officer was shot while on duty at a police station.
Ms McCall said Ross recognised that his offence was very serious. A psychiatrist who had reported on him considered he posed a high risk if at liberty.
Comparative justice
The defence counsel said that at the time of Lord Wheatley sentencing Ross in 2006 the lead authority in such cases was one which was subsequently overruled by a full bench of appeal judges.
That decision resulted in child abuser Morris Petch having his minimum term reduced from 12 years to eight and Robert Foye, who raped a teenager while on the run from prison, having his punishment halved to four and a half years.
Ms McCall said the three-stage process applied in the Petch and Foye case should now be used to fix the minimum term for Ross.
Under it the appeal judges would select a notional determinate sentence for Ross, before stripping out the part that would be for public protection and then taking into account early release provisions for inmates serving normal sentences.
The defence counsel said the purpose of the exercise was to do "comparative justice" to those serving indeterminate sentences and prisoners with fixed sentences in terms of the appropriate moment for the parole board to have an opportunity in considering their cases.
Lady Paton, who heard the appeal with Lord Mackay and Lord Drummond Young, reserved their decision and will give a ruling at a later date yet to be fixed.