Radio 2 breakfast DJ Evans broadcasts from Inverness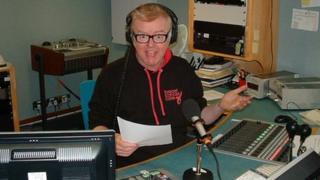 BBC Radio 2 DJ Chris Evans has broadcast his breakfast show from Inverness during a Land's End to John O'Groats charity drive.
Earlier, Evans along with singer Gary Barlow, Professor Brian Cox and broadcaster James May reached John O'Groats in Caithness.
They were said to have been overwhelmed by the numbers of people who turned out to see them in the far north.
Evans broadcast his show from BBC Radio Scotland in Inverness.
The charity drive, which involved driving a pink Rolls-Royce the length of Britain, was in aid of breast cancer care.