Aberdeen and Newtonmore climbers win Piolet d'Or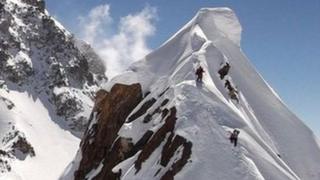 Two climbers have been honoured at an awards dubbed mountaineering's Oscars.
Rick Allen, from Aberdeen, and Sandy Allan, from Newtonmore, secured the Piolet d'Or for a successful expedition to the Himalayas last year.
They completed what was described as the last great unclimbed route in the range - the Mazeno Ridge to the mountain Nanga Parbat.
The pair were honoured during a three-day event held in Chamonix in France and Courmayeur in Italy.
The Mazeno is the longest arête - a sharp, rocky ridge - on any 8,000m (26,246.7ft) peak. The crossing involves about 8 miles (13km).
Mr Allan told BBC Radio Scotland: "It is a very, very long ridge and most of it is above 7,200m. It is a knife edge with lots of pinnacles."
He said they felt very honoured to have had their climb acknowledged by their peers.
Following their ascent, Mr Allen said the expedition left him "skeletal" because they ran out of food. He also suffered from frostbite.
Nanga Parbat is sometimes called the "Killer Mountain" because of the dangers it poses to climbers.
The British Mountaineering Council has described the Mazeno Ridge as a "monstrous undertaking".